August brings a special welcome to Miguel Rivera-Lanas, who is postponing his graduate studies to continue his work at the CSSLab as its resident Data Scientist.
The CSSLab is excited to draw from Miguel Rivera-Lanas' expertise to streamline its research process and data pipeline. His new full-time role builds upon the progress he began in April 2022, when he started working with the Lab's research and administrative staff to develop timely data infrastructure solutions. Over the next year, Miguel will continue to develop and manage the Lab's data engineering projects and open source tools, and help implement best practices for research software development.
Miguel received a B.A. in Economics with minors in Statistics and International Relations in 2017. Before getting involved with the CSSLab, he worked in fixed income and equity portfolio management at AllianceBernstein and Point72.
In the fall of 2023, Miguel will be pursuing a M.S. in Public Policy at CMU. He is interested in the application of insights from computational social science to public policy, and in the public-interest technology space generally. Specifically, he is interested in research leading to more conscientious and less harmful application of ML solutions to domains with significant social and civic significance.
Miguel has volunteered with organizations such as Statisticians without Borders (SWB) and DataKind, which consult non-profits on software development. In his free time, he enjoys eating and sometimes cooking Indian and Sichuan food, traveling (but not flying), and reading about politics and history.
EMMA ARSEKIN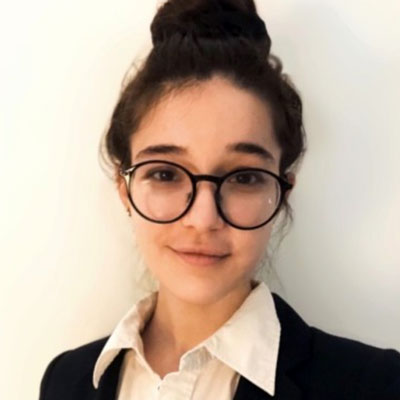 —
Communications Specialist