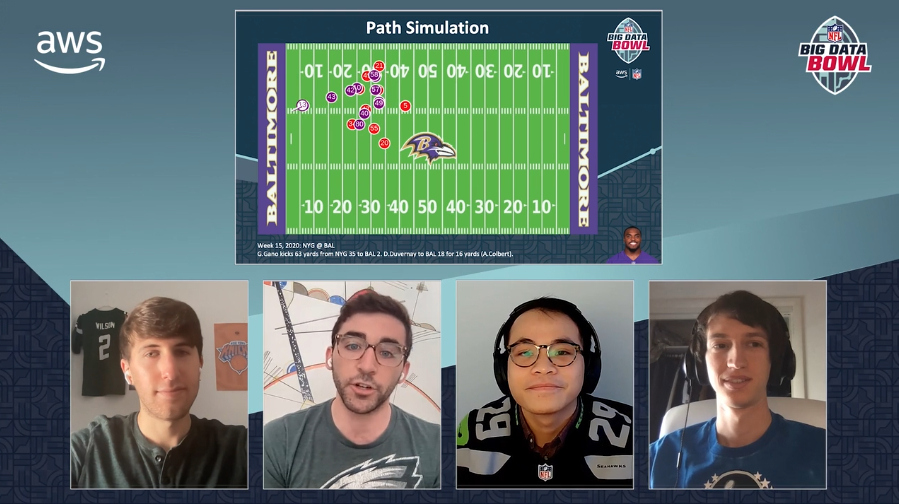 2022 Big Data Bowl finalists Ryan Gross, Joseph Rudoler, Tai Nguyen, and Ryan Brill present "Optimal Run Path For Kick Returners."
There's nothing more American than football.
Penn graduate student Tai Nguyen figured that out soon after arriving in the United States from his home in Vietnam. He was just 14 years old at boarding school in San Francisco, sent by parents determined that he get a good education.
A year later, Nguyen moved to another boarding school in Seattle, where the city was buzzing over the Seahawks winning the Super Bowl.
"Just from being in that environment, it caught my attention and I learned more about the game," he recalled. "Football was an easy thing to talk about and make friends through that."
Ten years later, football is still helping Nguyen connect to American culture. He's on a team of Penn grad students that was recently named as a finalist in the NFL Big Data Bowl, a competition that invites college students and professionals to use real-time league data to come up with science-backed strategies for better plays. The team's winning entry analyzed the optimal run path for kick returners. The eight finalist teams share a prize pool of $90,000.
"The Big Data Bowl has been a nice surprise this year in that I knew I wanted to enter it, but I didn't know I'd be able to work with so many other bright students from Wharton," said Nguyen, who met his teammates through the Wharton Sports Analytics and Business Initiative. "I'm kind of a random ticket here because I'm the most new to Penn and didn't grow up watching football. So for me, that was pretty cool."
by Angie Basiouny
April 27, 2022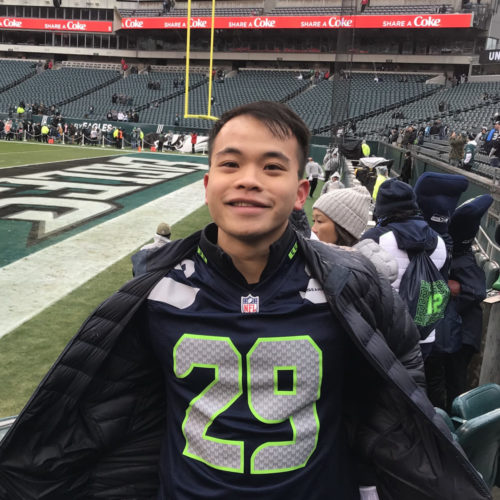 Tai Nguyen
M.C.I.T. in Computer Science
Tai Nguyen is a Penn graduate student, research assistant, former IBM data scientist, and a finalist in the NFL Big Data Bowl. Those aren't bad stats for a bright student who came to America a decade ago by himself with big dreams.
Optimal Run Path For Kick Returners
Using Special Teams data from 2018-2020, Penn students Ryan Gross, Joseph Rudoler, Tai Nguyen, and Ryan Brill devised a novel framework for computing the optimal return path for a kick returner.
Nguyen, 24, will graduate next year with a Master of Engineering degree in computer and information technology. The NFL has stated that the Big Data Bowl serves as a pipeline for the organization to find and hire new talent, but Nguyen's career goals lie elsewhere. He's a research assistant at the Computational Social Science Lab, where he's intrigued by natural language processing – a burgeoning subfield that combines computer science, artificial intelligence, and linguistics. He's studying bias and misinformation in American mainstream media.
Nguyen earned his bachelor's degree in economics and statistics from Haverford College in 2019, and his first foray into natural language processing happened while he was working after graduation as a data scientist for IBM. When the COVID-19 pandemic hit, he worked remotely from his family home in Ho Chi Minh City and wanted to find a side project to fill those empty quarantine hours. That's when he discovered STEAM for Vietnam, a nonprofit that creates online classes to bolster science, technology, engineering, arts, and math education for Vietnamese children. Nguyen worked on a project that helps teachers instruct students on how to operate 3D-printed robots made by IBM.
Nguyen found the volunteer work very satisfying because he wants the next generation of Vietnamese kids to have a brighter future, and he believes access to tech education holds the key.
"I was very lucky to be from a bigger city, where we learned some ancient programming language and we had a lab. But for a lot of students from smaller provinces, they not only don't have computer science education, but they also don't have computers growing up," he said. "It's super impressive just to see kids of that age, compared to us back then, and what they can do now. They can build websites, apps, and games."
"Lucky" is a word that Nguyen says a lot when he's asked about the life journey that has led him to Penn. His father is a police officer, and his mother is an entrepreneur who traveled on business to the U.S. Impressed with the schools here, she sacrificed to make sure both her children would study abroad.
"I was lucky because my parents were always really supportive of my education," he said. "It wasn't easy. I don't think I spoke English that well. Culture-wise, it was definitely difficult to get in. When I'm here, I'm a foreigner/immigrant. When I'm home, I'm American."
It wasn't just football that helped Nguyen find his footing with American peers. While at the boarding schools, he ran cross-country and even tried a little acting – activities that helped him overcome shyness and forge friendships.
"I tried to do a lot of things that people at school don't expect an international student to do," he said. "And I was lucky to be in an environment where people liked and supported me."
Nguyen said he hopes to earn a Ph.D. and stay in the U.S. because there are so many jobs available in data science. He said he wants to be part of meaningful NLP research and study methods that will lead to greater understanding of human sentiments and biases. He maintains a close relationship with his mom and dad, sharing his daily trials and triumphs with them.
"My parents don't speak English that well, so a lot of times I can't even begin to explain to them what I do. They don't know what NLP or big data football is. But we try to stay connected," he said. "I think I'm way more luckier and privileged than a lot of Vietnamese kids because my parents afforded me the opportunity to be here."